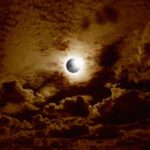 The Great American Solar Eclipse is happening on August 21, 2017 and Carolina Beach will be in a great spot for viewing it. For approximately 2.5 minutes in the afternoon the sky will grow twilight dark as the moon crosses the sun's path allowing the stars to shine in midday and the sun's corona to become visible. The last total solar eclipse of this magnitude occurred in 1918. This is a true spectacle that will not be seen in the United States again until 2024.
We want our guests to share in this celestial event with us at the Beacon House Inn! So, as a special treat we are providing all of our guests with eclipse viewing glasses as a bonus for staying with us.
Here are other local eclipse viewing parties and events to attend while you are here.
There are some great resources to learn about the solar eclipse of 2017. You can read more about this once in a lifetime event at the websites Eclipse 2017, Great American Eclipse. If you will be travelling for the eclipse, you may enjoy this article from Conde Nast Traveler.
We hope you will join us for this amazing phenomenon!