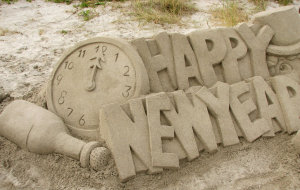 What are your plans for this New Year's Eve? Are you looking for a romantic evening for two, a girl's night out on the town or wholesome fun for the entire family?  Just in case you missed our December newsletter from the Inn, here are some of the ways we ring in the New Year here at the beach.
The Island of Lights Celebration in Kure Beach is a Pleasure Island tradition.  The celebration begins with a DJ and dancing in the street. You and your family can enjoy refreshments and party favors as you count down to midnight.  Watch the lighted beach ball drop and the night sky expode with fireworks.
Une Soiree Caberet at TheatreNow features dinner and a show! This New Year's Eve event includes a three course French supper and cabaret style show with live music, acrobats, burlesque and comedy.
Dress up in your finest attire for an elegant evening at Thalian Hall for their New Year's Gala. This event has it all! Dinner, drinks and dessert followed by a production of the musical "Hair". After the show, enjoy a live DJ, dancing and champagne toast to celebrate the New Year!
The beach is the perfect place to keep it simple too. A champagne toast on an empty moonlit beach at the stroke of midnight speaks of a romantic interlude you will not soon forget!
However you choose to usher in 2015, we are sure you will find it here at the beach!